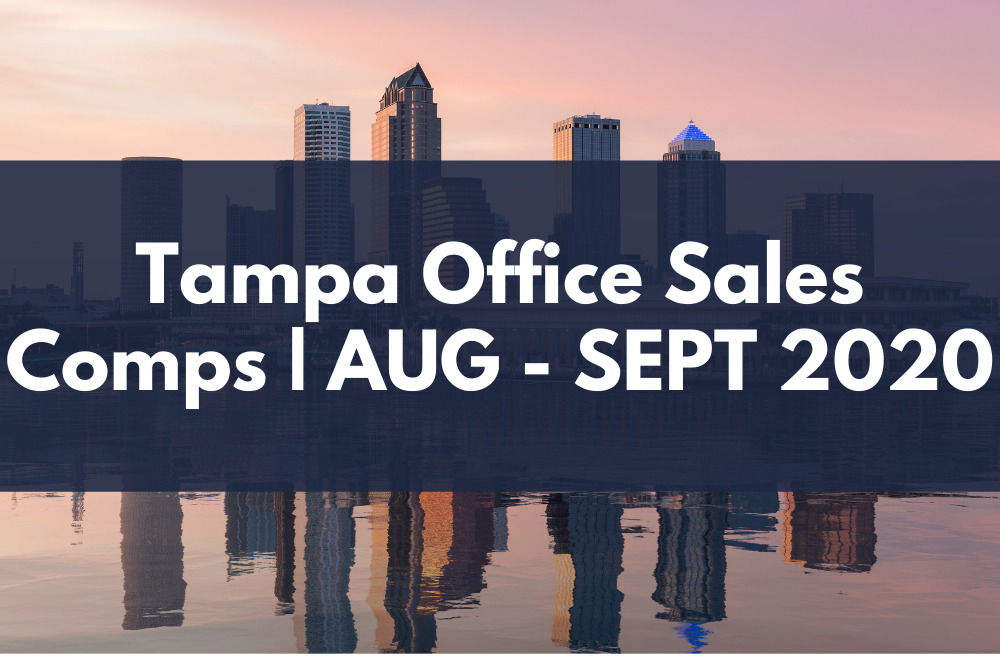 This has been a rough year. Office property owners and especially medical office owners, however, are seeing values fare better than expected. Metrics for September continue to show improvement across the board including month-over-month transaction volume growth, number of transactions,  and AVG $/SF.  In September 2020, 14 transactions took place in the Hillsborough County/ Tampa area for a to...
Continue Reading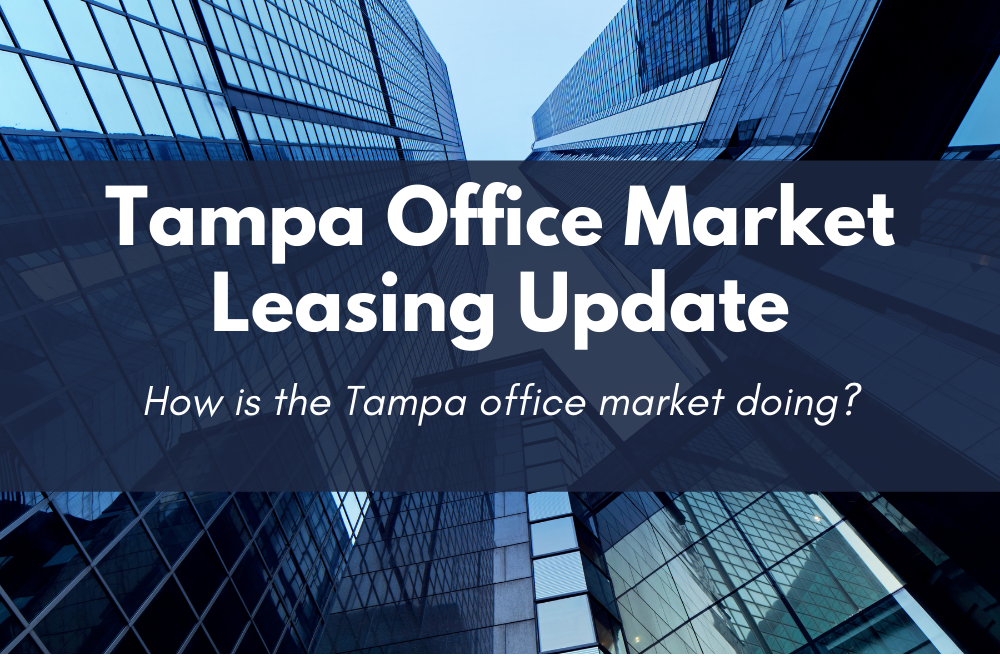 The Tampa office market is doing relatively well, despite the pandemic. 📌 Over the last 24 months, we've held relatively steady at an average vacancy rate of about 7.5%. 📌 Annual rent growth remains one of the strongest in the country. It's currently hovering at approximately +1.8% YOY. 📌 1 & 2-star office properties have held down the vacancy rate average co...
Continue Reading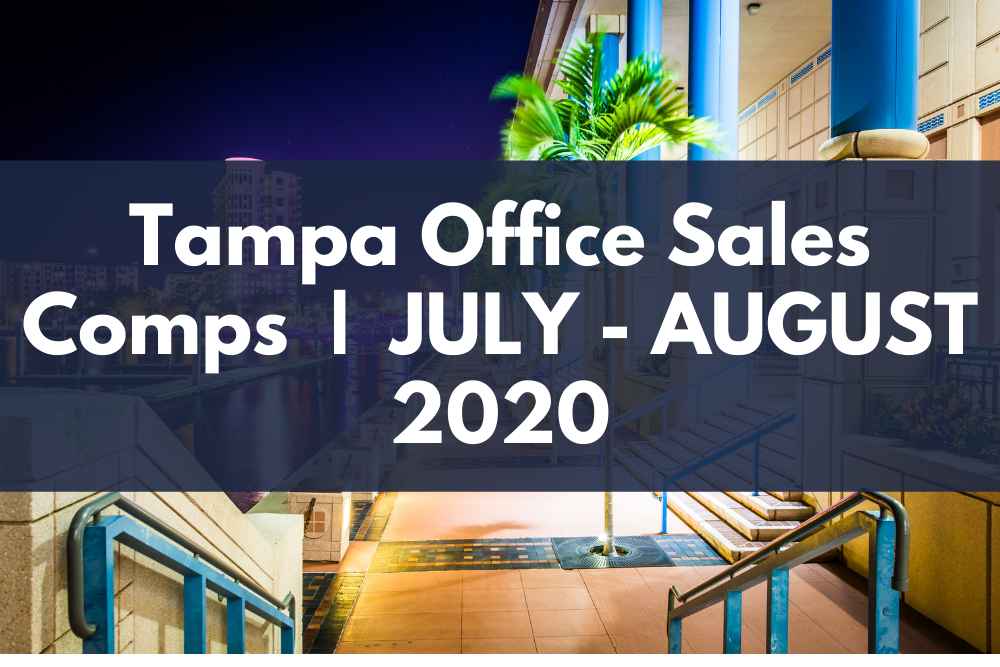 We're now eight months into a historic pandemic. While everyone has been hard hit, the Tampa/Clearwater/St. Pete MSA's diversified economy is helping us on the road to recovery as office sales activity steadily picks back up. The total transaction volume in Tampa for August of this year was $11,611,600. Compared to $120,458,500 in AUG 2019, this reflects an approximate -90% YOY decline...
Continue Reading
Which industries are growing and which are declining? – Employment & unemployment are important factors affecting the office market.  The Tampa area unemployment rate declined again this month, showing an improvement month-over-month from 6.8% in August to 6.1% in September, a decline of 0.7 percentage points. 📌 Two major industries gained jobs YOY in September: The Government sector...
Continue Reading
Jobs and unemployment are important factors shaping the office sector. Increasing numbers of jobs indicated an increased need for office space, while higher numbers of unemployment show the potential for a decreased need. Here are the latest unemployment numbers for your consideration. The Tampa area unemployment rate was 6.8% in August, up 3.5 percentage points YOY In August, two main sectors gai...
Continue Reading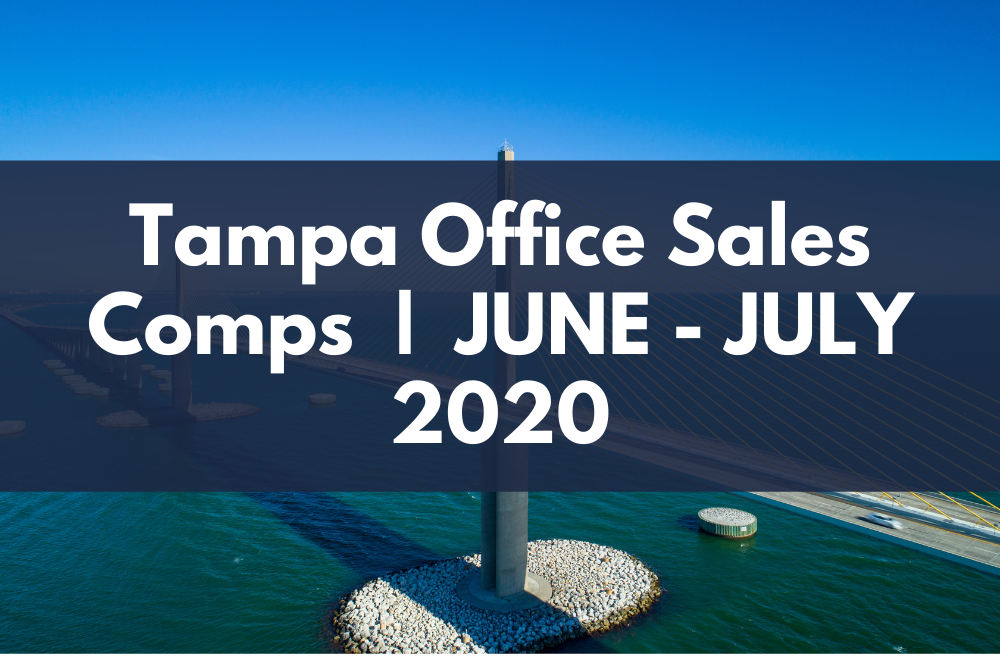 As we made our way into the end of the first half of a truly unprecedented year, sales started to pick up although still showing year-over-year declines. In June, the office market transaction volume was $17,739,000 versus $66,800,100 in 2019, reflecting a -73.4% YOY decrease. The number of transactions declined slightly from 13 in June 2019 to 12 in June 2020. In July, the total volume was $12,58...
Continue Reading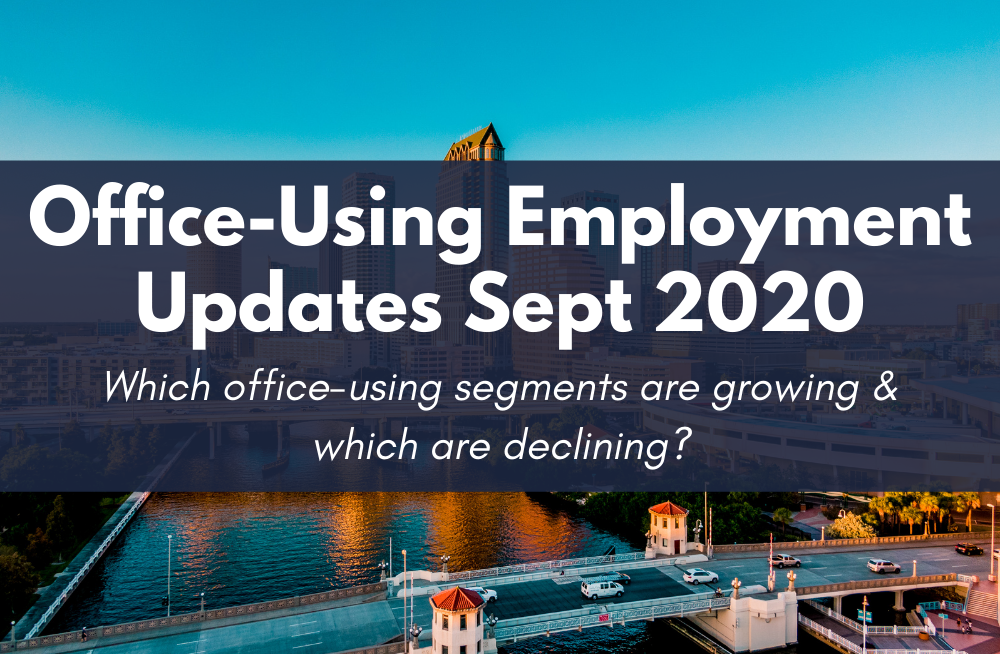 Employment trends have a direct impact on office demand. As foreseen, national employment in office-using sectors has seen job losses. However, at a 5.6% decline YOY in July 2020, it demonstrates better performance than the overall economy which experienced a decrease of 7.5% YOY.   Financial activities, one of Tampa's biggest sectors, has shown more resilience with fewer losses than the infor...
Continue Reading
While a lot has changed over the last few months, one thing hasn't–and that's Tampa's continuing growth, national visibility, and strategic importance. One of the many companies that are making major moves in the Tampa area is Amazon. The retail behemoth is growing its presence in our region in a big way and the pandemic hasn't slowed it down. The company seems to hav...
Continue Reading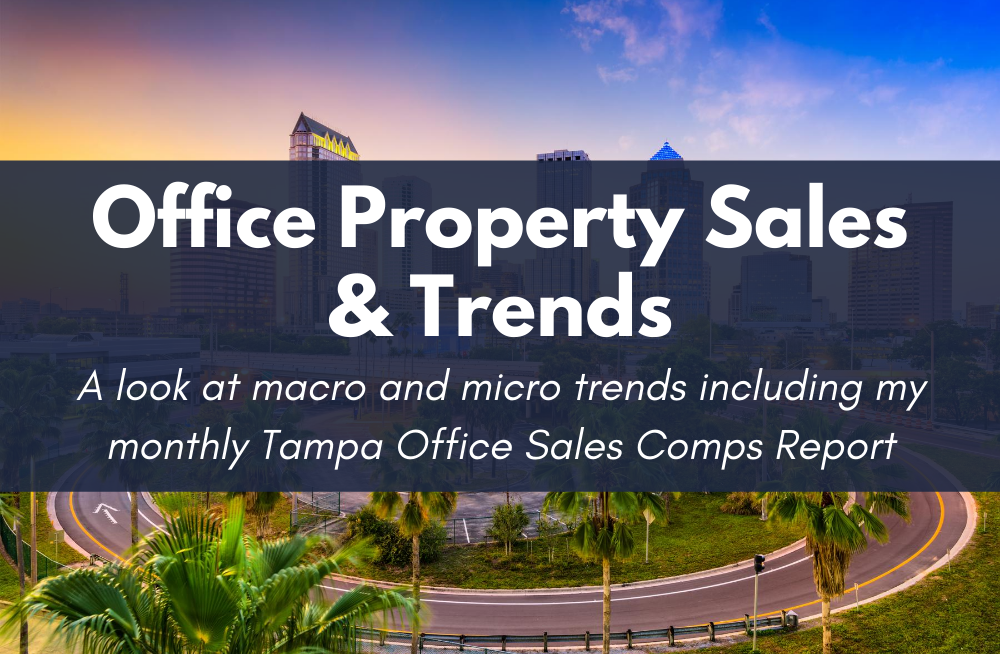 A look at macro and micro trends including my monthly Tampa Office Sales Comps Report The Big Picture As we move into the second half of this unprecedented year, more companies are starting to make decisions and moves to accommodate the new workplace reality. Just this week, Pinterest announced the termination of its 490,000 SF lease in San Francisco. The surprising move resulted in a one-time $89...
Continue Reading
Resilience is the new "normal". COVID-19 has presented challenges for everyone, including office property owners. We're living through extraordinary times, but while circumstances are changing daily, we can navigate these difficulties by looking at data, tracking evolving market trends, and looking for emerging opportunities. As we move forward in the recovery process we are beginning to see...
Continue Reading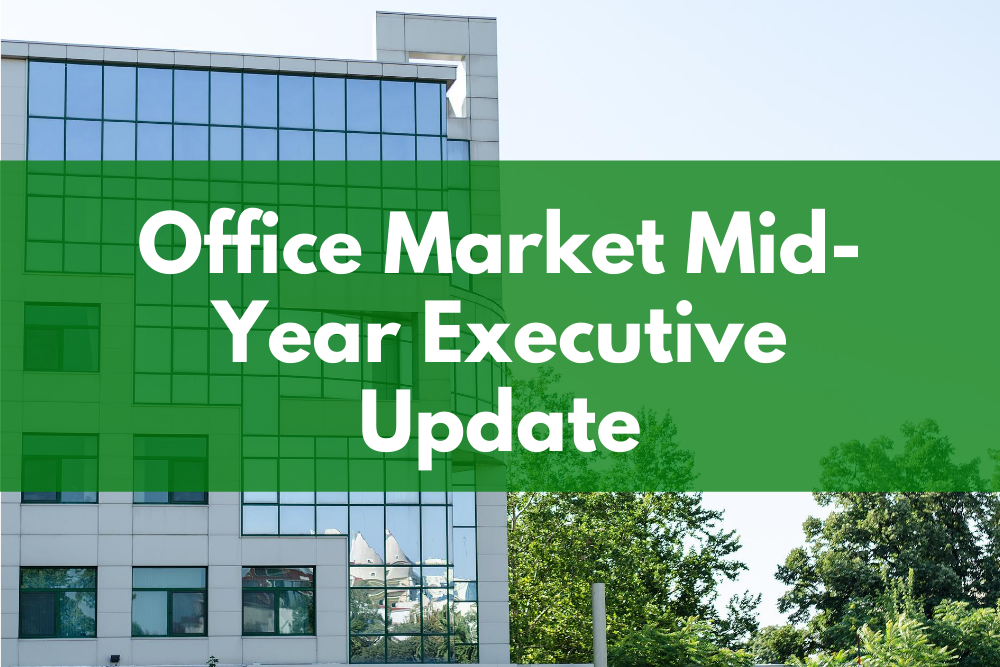 Office Market Mid-Year Executive Update As we move into the second half of the year, and the second wave of COVID-19, office property investors are standing by to see how the pandemic affects the office market. While many feared the dramatic exodus from office to remote work that took effect from one day to the next would mean the end of the office market, that scenario just isn't playing out....
Continue Reading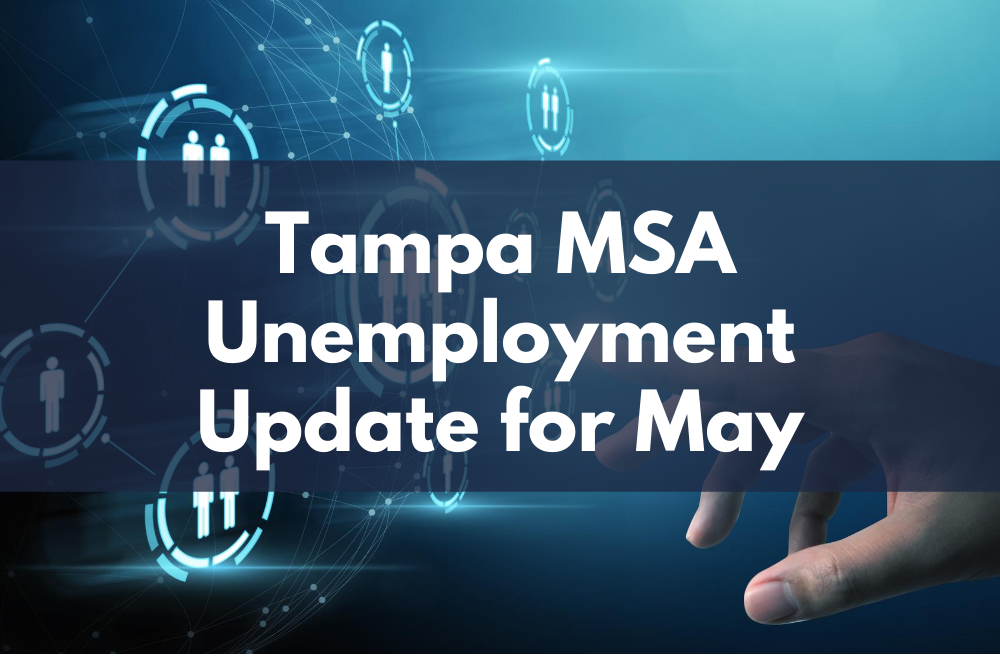 The Tampa-St. Petersburg-Clearwater area unemployment numbers are out. Here's a snapshot of what took shape in May: The unemployment rate in our area decreased month-over-month from 13.2% to 13.1%, potentially benefitting slightly from the beginning of the business and government reopenings taking place across the state. In other areas, we saw mixed results: Pensacola unemployment dipped to ...
Continue Reading