Health systems lead third-quarter activity as cap rates show modest compression during a quarter that saw lower transaction volume.
The H2C's second quarterly medical office building ("MOB") report reflecting the full impact of the COVID-19 pandemic. While COVID-19 continues to weigh on transaction volumes, with volumes totaling only $1.6 billion, marking the lowest quarterly transaction volume since Q1 2014, the MOB sector continues to show remarkable resilience in pricing.
Average cap rates saw a slight decline of five basis points in Q3 2020, with the average cap rate for MOBs falling to 6.55%. Health system-based activity made up over 25% of the transaction volume in the third quarter, with systems selling and acquiring MOBs.
Despite the limited transaction volume, MOB transaction pricing continues to hold steady, indicating a sustained level of market interest in the MOB space, particularly from private and institutional investors. As cited in previous H2C reports, investors view the MOB space as a "safe haven," where assets serve necessary and growing uses in the provision of healthcare. The uncertainty caused by the COVID-19 pandemic seen in other real estate asset classes, such as retail and hospitality, is increasing investor interest in the stability of the MOB space, which benefits from significant long-term tailwinds, such as an aging population and increased healthcare spending.
Low-interest rates, high demand, low supply, and capital availability will continue to support values in the MOB sector, despite the lower transaction volumes that are anticipated for 2020. It should be noted that a robust first half of 2020 ("H1 2020"), driven by an active Q1, was only 1.48% below H1 2019. This suggests that the sector may see increased transaction volume again as uncertainty due to the COVID-19 pandemic begins to fade and as investor interest in the sector remains strong.
As highlighted in H2C's Q2 2020 H2C MOB report, health systems continue to stand out as potential sellers of MOBs in 2020 and future quarters
Download the full report below to see the entire MOB Quarterly Update for DEC 2020, including investment sales, current trends, & regional reviews.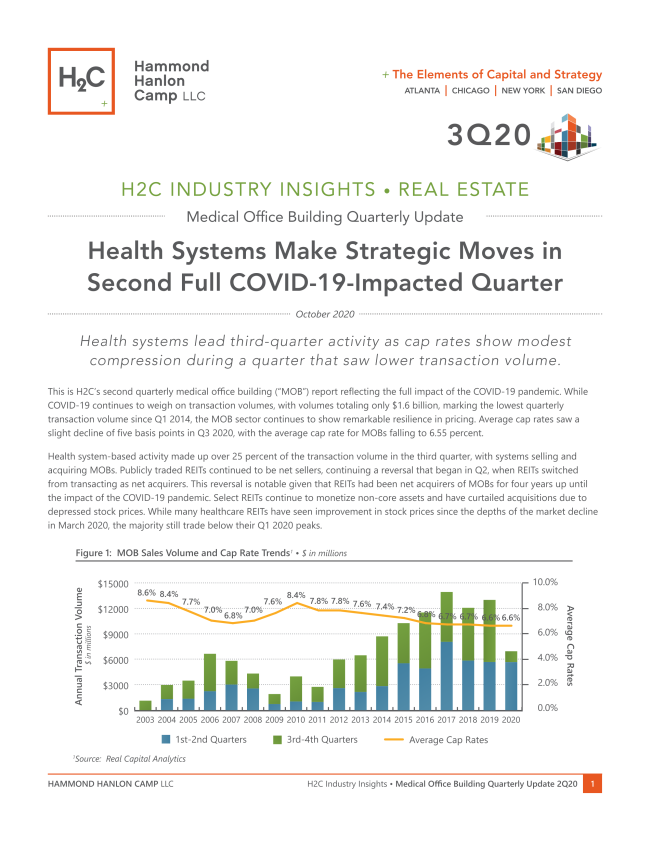 Social Share