Analyzing office-using employment can reveal potential leasing trends & acquisition and disposition opportunities.
 In two of the three office-using employment sectors in the Tampa-St. Petersburg-Clearwater MSA measured for this report, we've seen month-over-month increases between September and November 2020, with the third remaining unchanged.
INFORMATION SECTOR | JAN-NOV 2020
The Information sector has remained relatively stable since April only experiencing a slight dip in the summer months of July and August.
Year-over-year, employment in the sector declined by -5.5%, and -4.35% from JAN 2020.
There was no significant change MOM from OCT 2020, however, there has been continuing growth from its lowest recorded number of jobs in JUL & AUG of 2020.
FINANCIAL ACTIVITIES | JAN-NOV 2020
The Financial Activities sector, one of Tampa's biggest industries, has remained resilient.
In November, the sector saw a small -0.2% YOY decrease, while growing +0.6% month-over-month from October.
Comparing the month to January, employment was only down by -0.65%. The sector has experienced continuous growth recorded every month since April 2020
PROFESSIONAL & BUSINESS SERVICES | JAN-NOV 2020
The Professional & Business Services sector took a hit like all others when the pandemic hit. However, it has been on the road to recovery ever since.
The sector recorded a -3.6% YOY decrease in November, a 3.37% decrease over January 2020, and a +0.9% MOM increase from October 2020.
The sector has seen continued monthly growth from the lowest recorded number of jobs in April 2020.
To see the full scope of office-using employment growth in the Tampa-St. Petersburg-Clearwater MSA, download the full Office-Using Employment Report, or feel free to connect with me directly for up to date local market information and expertise.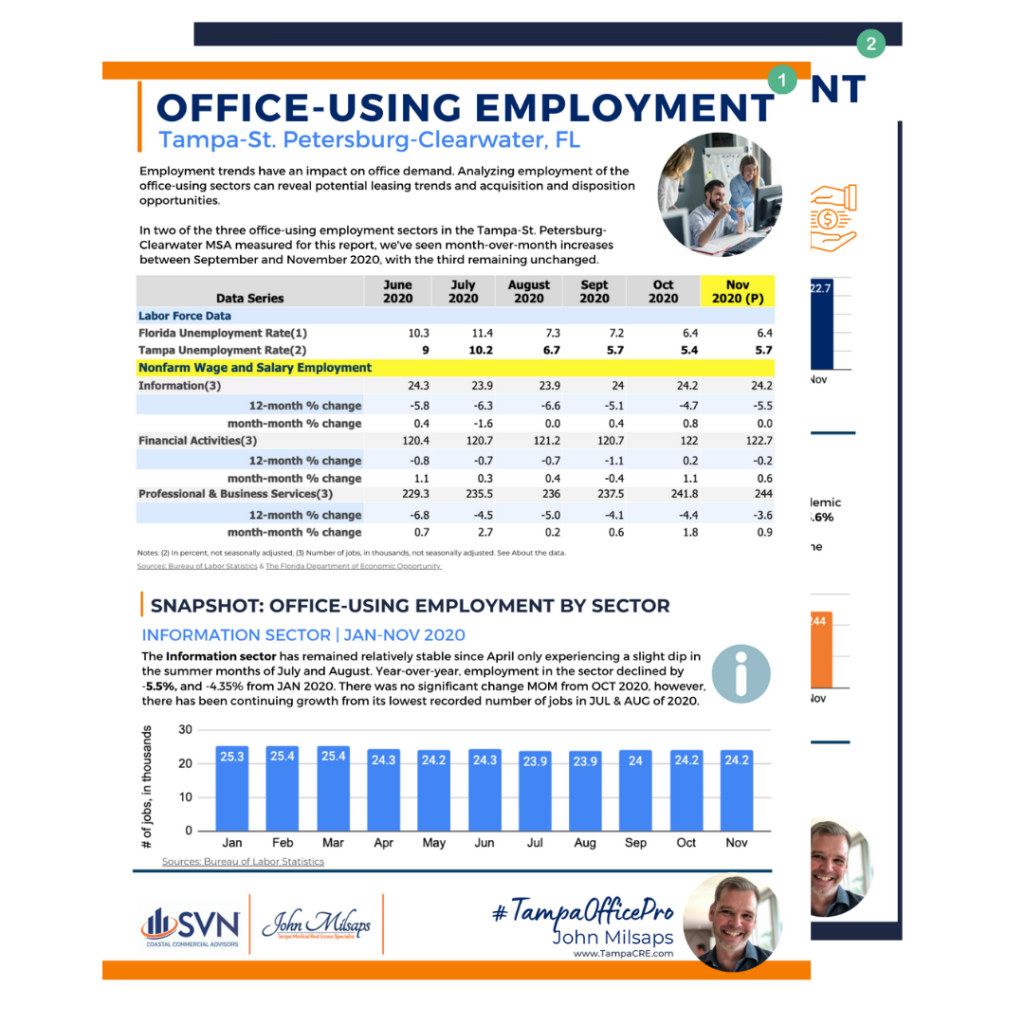 Social Share