Office Market Mid-Year Executive Update
As we move into the second half of the year, and the second wave of COVID-19, office property investors are standing by to see how the pandemic affects the office market.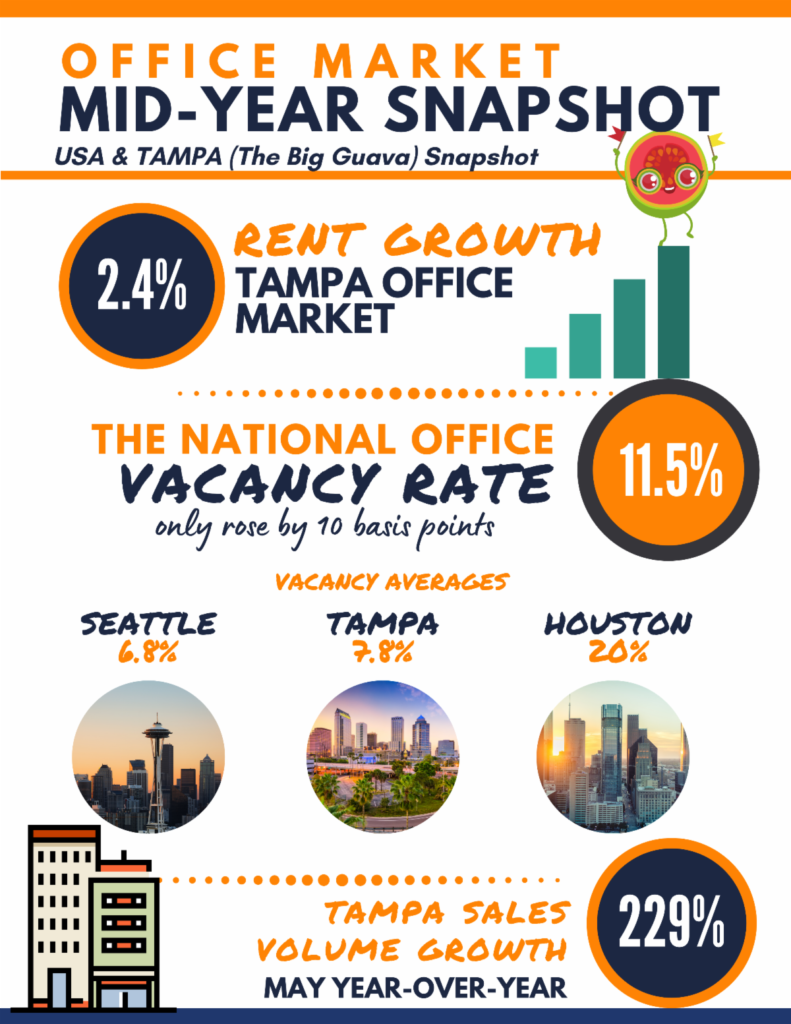 While many feared the dramatic exodus from office to remote work that took effect from one day to the next would mean the end of the office market, that scenario just isn't playing out.
In Tampa, although the number of transactions undoubtedly slowed temporarily, we're seeing sales volume return to at or above 2019 levels.
👉 See my sales comps post here for more detailed information on office property sales in Tampa.
Meanwhile, leasing activity in the Big Guava has continued strong with an approximate rate of growth hovering in the 2.4% range, one of the healthiest nationwide.
Vacancies
According to a recent report by Colliers via GlobeSt.com, the national office vacancy rate rose by about 10 basis points to approximately 11.5%. Yet, vacancy rates for the past 21 consecutive quarters remain below the national average of 10.3% for the period.
An unexpected two-thirds of the office markets across the country have vacancy rates below that.
Of the major markets, Seattle reported the lowest at 6.8% while Houston had the highest at 20%.
Tampa vacancies have remained on balance edging upward 50 basis points to hit–depending on the source of the data–in the range of 7.4% and 7.8% for the CBD.
The biggest impact from COVID was not to existing rental rates and vacancy but to absorption.
According to JLL's Office Outlook Q2 2020 report, there were three key trends:
Gross leasing volume dropped by an unprecedented 53.4% in Q2, but some degree of a rebound is expected in gross leasing volumes for Q3 and Q4
The office market recorded 14 million s.f. of occupancy losses (the steepest drop since Q2 2009), bringing year-to-date net absorption to -8.4 million square feet
Sublease vacancy rose by 5.2 m.s.f. in Q2, with a further 15.7 m.s.f. of additional new shadow space becoming available although not yet vacant
For Tampa, the YTD total net absorption for the Q2, was -171,857 square feet.
Social Share