Utility rates are going up, and so are the number of companies interested in energy-efficient office buildings. 
In Tampa, regulators recently approved a Tampa Electric (TECO) rate hike that took effect in April of this year.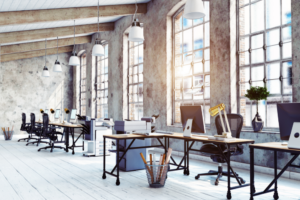 Residential monthly energy bills are set to increase by about 10% because of the measure, while commercial and industrial customers will experience increases between 5% and 10%, depending on usage. (WFLA) 
These recent hikes won't be the last. 
At the same time, more companies are seeking energy-efficient spaces with visible sustainability practices in place. While newer, Class A buildings are being built with energy efficiency as part of the design platform, buildings that are ten years old or more, can successfully retrofit energy efficiency. 
In this article, we'll look at three high-impact strategies that professional and medical office property owners can adopt to maximize energy efficiency as well as their bottom line.
Conduct a Comprehensive Professional Energy Audit
The best place to start is with a comprehensive energy audit. An energy audit will help you understand your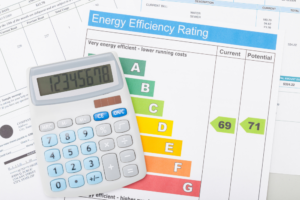 building's energy usage, identify areas of improvement, and prioritize energy-saving initiatives including lighting, HVAC systems, and insulation, among other relevant components. The audit report will serve as an invaluable roadmap for implementing targeted energy efficiency measures.
Best of all, TECO offers free and paid energy audits by auditors certified through the Association of Energy Engineers accredited by the American National Standards Institute (ANSI). Their paid audits typically start at $75. 
Learn more about TECO's energy audit options on their site here. 
You can also hire an independent energy auditor. If you decide to go that route, look for certifications, reviews, and a successful track record in the commercial office space. 
Implement DIY Energy Efficiency Measures
If you decide to forgo the professional energy audit, there are several measures you can implement on your own. 
Install Energy-Efficient Lighting
Lighting is the biggest contributor to an office building's energy consumption and bill. Consider upgrading to energy-efficient lighting solutions such as LED bulbs and strips, as well as motion-detecting lights.
LED lights not only consume significantly less energy than traditional incandescent or fluorescent bulbs but also have longer lifespans, reducing costs and hassle.
Implementing occupancy sensors and daylight harvesting systems can further optimize lighting usage in your office building by automatically adjusting illumination based on occupancy and natural light availability. 
Daylight harvesting technology is a great option, especially here in Florida. If you have large windows in your building, daylight harvesting, also known as daylight response, could be a fantastic alternative to standard lighting.
Upgrade Your HVAC Systems
According to ENERGY STAR, space cooling accounts for roughly 15% of the electricity used in commercial buildings – second only to lighting.

In addition, the Consortium of Energy Efficiency (via ENERGY STAR) reports that more than 25% of all rooftop HVAC (heating, ventilation, and air conditioning) units are oversized, resulting in higher energy costs and equipment wear. Properly sized equipment dramatically reduces energy costs, increases the life of the equipment, and reduces pollution. (Via ENERGY STAR)
HVAC is particularly important in the Sunshine State where high temperatures lead to high, year-round AC usage, and even higher energy bills.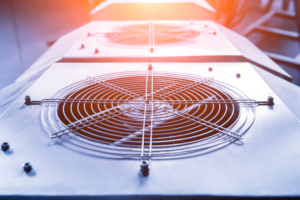 Invest in energy-efficient HVAC systems and prioritize regular maintenance to ensure optimal performance. Look for the ENERGY STAR rating and consider implementing advanced control systems that regulate temperature and airflow based on occupancy and time of day. 
Zone heating and cooling should also be considered to minimize energy waste in unoccupied areas.
Learn more and check out available rebates on the ENERGY STAR site.
Improve Building Insulation
Florida is hot. Poor insulation lets the high outdoor temperatures inside your building, and on those rare cooler days, lets the cold air in and the warm air out.

Enhancing your building's insulation can significantly reduce heat transfer, minimize energy loss, and improve overall energy efficiency. Conduct a thorough assessment of your building's insulation in walls, roofs, floors, and windows. 
Upgrade insulation materials and seal any gaps or cracks to prevent air leakage in or out. Improved insulation will not only reduce the workload on your HVAC systems, but it will also enhance the overall comfort of your tenants. 
Happy tenants, happy landlord.
Install Energy Management Systems
EMS systems work by controlling and monitoring energy-consuming devices in real time. These devices may include heating and cooling equipment (HVAC), fans, pumps, dampers, and lighting. They can also be used to control refrigeration equipment, industrial processes, or other systems.

Investing in an energy management system (EMS) will increase the energy efficiency of your equipment and building, save on maintenance and operating costs, and improve your building's indoor air quality.
Plus, you'll be better able to track energy usage, identify inefficiencies, and make informed decisions for optimizing your building's energy performance. 
TECO offers guidance and a rebate program. Learn more on the Tampa Electric site here:
https://www.tampaelectric.com/business/saveenergy/facilityenergymanagementsystem/
What's in a name? The Sunshine State says it all. Consider installing solar panels on your building's rooftop, parking lot, or available acreage.

There are a multitude of private and public programs offering incentives, rebates, and tax credits, so be sure to do your research before choosing which option is right for you and your building. 
Not only can solar power significantly reduce dependence on traditional energy sources to keep your building running in the event of a power outage (think hurricanes and tropical storms!), but it can also provide long-term cost savings.
Foster Tenant Engagement
Engaging tenants in energy-saving initiatives is essential to get the most out of your energy efficiency program. 
Start by creating a tenant awareness program with the goal of educating them on the energy conservation practices you've implemented. You can:
Encourage and incentivize tenants to adopt energy-efficient habits within their leased spaces. 

Distribute energy-saving tips they can implement within their leased spaces.

Provide regular updates on energy performance and publicly acknowledge progress to foster pride in their building. 

Create a smoke-free common area outside the building where tenants can take a break, have lunch, meditate, and work. 

Collaborate with tenants to develop shared energy goals and recognize them when they've achieved their goals or key benchmarks.

Offer tenant business owners or managers energy and money-saving tips for their businesses. For example: 

Eliminating disposable paper and foam cups, plastic cutlery, and paper plates from their kitchens in favor of mugs and inexpensive silverware. 

Encourage re-using the back of print paper for internal printed documents instead of throwing away used sheets.

Eliminating buying disposable plastic water bottles for employees in favor of a water cooler. 
As a commercial property owner, you are the steward of your office property and will set the tone for energy efficiency and money-saving practices in your building. By embracing these strategies, you will be well on your way to a greener building and, more importantly, the bottom line. 
Social Share